CrossFit is an exercise training program for people of any age or fitness level. CrossFit workouts are constantly varied, meaning there will be a new and exciting challenge each day since the workouts constantly change. The combination of cardiovascular exercises, weightlifting, and gymnastic movements will get you into the best shape of your life.
Your nutrition should be one of your top priorities! Learning how to fuel your body the right way isn't always easy. Since everyones lifestyle is unique, there is no "one size fits all" plan when it comes to nutrition. Our coaches can help you develop a plan that works that you can follow for a lifetime. We will teach you the tools you need for success. Living a healthy lifestyle can be enjoyable and sustainable!
Our CrossFit youth programs are a great way to teach kids excellent body mechanics through supervised exercises. This helps kids and teens stay healthy, enhance sports performance, and avoid injuries while having a ton of fun!
We incorporate a variety of specialty classes to enhance your training experience, such as Strength Training and Mobility Sessions. These classes are included with your regular membership. Click below to check out our current schedule. Please reach out for additional information about these classes!
Aspire Total Wellness is located right inside of OOTB! As a member, you receive exclusive discounts. The clinic offers a wide range of services including an array of vitamin injections (B-12, D, and more), weight-loss programs, peptide/hormone therapies, NAD+, fat burning injections, laser therapies, kinesiology, cosmetics, lab draws, and more.
CrossFit Out Of The Box Is Perfect For: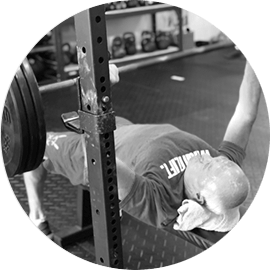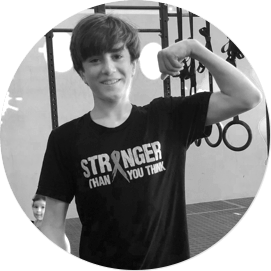 What our members Are Saying:
" Leigh and Tonja go beyond to ensure we have safe and good workouts. They always have, but now in the current COVID situation, they have rearranged the gym and the workouts to make it safe and effective."
"2 months after I started, I found out I was pregnant. I got scared to go back so I cancelled my membership. The owner was very thoughtful and kind with my situation, encouraged me to continue and the coaches would help modify the workouts. Whether you have no idea what you are doing, young or old, medical issues or pregnant, Crossfit Out of the Box will help to ensure you are comfortable."
"This is a great place for CrossFit! The owner is there every day, and the staff is beyond motivating! They want you to do the workouts correctly and don't bark out commands. The members are extremely friendly and welcoming. If you're considering CrossFit, you should definitely check them out! If you're looking for a new gym, you should definitely check them out! If you're just in town for a few days, you should definitely check them out!"
"I've been a member for 5 years, and love the sense of community that this gym brings to a disjointed South Florida. I've done many other fitness activities in my life, and I've never been bored with CF OOTB workouts. All of the coaches are well trained and get to know each individual to help motivate them. Their facility is pristine! All the equipment is up to date and clean, which makes a huge difference to me. You would do yourself a favor by dropping in or joining Out of the Box."
"Very clean and organized, specially in this pandemic. Limited class size, more than six feet apart from one another. Plus, the equipment and floors are sanitized after every class. Never felt safer in any other gym."
"This place has changed my view of CrossFit completely! Leigh (the owner) is always there with a smile and encouraging words. She's also really knowledgeable about nutrition. Everyone who comes here is friendly and treats each other like family. Even when I'm being slow or picking up the lightest weights- they're always encouraging me and helping me improve! I love it!"
"What a great gym right in the heart if Pompano Beach...This crossfit gym is one of the best I've ever seen! All new equipment including concept 2 rowers, assault bikes, plates, bars, etc etc. Trainers are all super helpful and encouraging. Great ownership and management, and it shows the second you step through the doors. Highly recommend!!!!"
"This box is by far the best in the area! Their coaches are patient, educated, and allaround great people! I have been to other boxes that are intimidating and give CrossFit gyms a bad rep! The coaches here work with you and give you the knowledge and confidence to do well. The programming at Out of the Box will continuously test your strength and endurance! I won't go anywhere else!"
"This is an awesome new gym and yoga studio! I love the owner and the instructors. They are always warm and welcoming in addition to being knowledgeable and helpful during the workouts. Thank you so much for a great place to get myself back on track to being healthy again!"
"The best thing about this Crossfit box is that they don't pressure you into doing more weight than you are comfortable with. The coaches are very good at coming up with alternative exercises for movements to make sure people are being safe while also improving. It's a large space with top of the line equipment (rowers/assault bikes/etc.). Great coaches, friendly members. Excellent location. Accommodating to drop-ins. You should give them a try-out!"
"This place has blown any other gym out of the water in my book. What makes this gym everything is the owner, Leigh Lopez. She puts her heart in this place 1000%, and it shows. They use a great system (Wodify) to help you track your progress. It's truly like a family here and this is fostered by all of the events and team building activities that Leigh takes the time and effort to promote. I have seen my fitness level grow in the short time I've been here. Do yourself a favor and come try out the friendliest CrossFit in Florida."
"While visiting Pompano Beach last week I attended a few classes at Out Of The Box. Leigh has established an excellent CrossFit facility. Out Of The Box is clean and well organized, their knowledgeable staff of certified trainers offers a variety of personalities which promote a constantly varied/well-coached environment. Which for me is what makes CrossFit "fun"."
"I was skeptical about joining a CrossFit gym that would not accommodate a beginner, but the first time I met Leigh, the owner of this gym, I knew I was in the right place. The staff here is awesome, the facilities are clean, and having A/C is a huge plus. Highly recommend this box to anyone, especially if you're looking to getting into shape but don't know what to do yet."
"Dedication, knowledge, and more. These 2 first listed qualities became very useful to face this coronavirus pandemic. Leigh designed workout programs for us online. We meet with her twice a week on FaceTime for personal training. Although we have limited equipment, she successfully trains us and we stay in shape."
"It was great fun to train in this gym. I felt comfortable from the first day. The coaches and other athletes have warmly welcomed me into their ranks as if I have always been training in this gym. I will come back next year and recommend this gym to anyone who asks me. I'm looking forward to the next year. It was a great pleasure to meet such nice people. Great community. Greetings from Berlin (Germany)."
"After passing by several times I decided to give it a shot. Boy, am I glad that I did. Since I had never done Crossfit before, the coaches took quite a bit of time with me to make sure I was using proper form. Safety is their priority. I absolutely love that you only compete with yourself. I love the people, the coaches, and the atmosphere. Give it a shot. You will not regret it."
"There comes a time when life gets too hectic between professional life and personal life, and we forget to take time for ourselves to take care of our body and health. I was no exception. After being diagnosed with Hashimoto's Disease and fighting an uphill battle with extreme fatigue and weight gain, the people and coaches at CrossFit Out of the Box were there to encourage me every step of the way."
"It's been over a month now that I've been coming to out of the box, and I feel better than ever. Not only is CrossFit a fantastic exercise and discipline program but your staff make it extremely fun. You're also very knowledgeable about movements, techniques, etc. The coaches are always concerned about form and safety of every move and every participant, which is very rare. I have an injury on my right arm and I was amazed on how much attention you have invested in trying to modify the routines to avoid any injuries, and improve mobility and strength on my arm. Overall I am very grateful for being part of Out of the Box and the deathly recommend it to anyone considering getting into real shape, no matter their conditions. You guys are extremely responsible, dedicated, knowledgeable, professional, and you care. That's what it's all about."
"I joined this box over a year ago in the Crossfit Layout program. 12 years I Later, I started regular CrossFit classes and have been a member ever since. These people have grown into a family in this box has completely transformed my body as well as my life. I recommend anyone and everyone to come in and take one step closer to changing your life."
"This box is by far the best in the area! Their coaches are patient, educated, and all-around great people! The coaches here work with you and give you the knowledge and confidence to do well. And Out of the Box, the programming will continuously test your strength and endurance. I won't go anywhere else!"
"This CrossFit gym is awesome! The trainers and coaches are very well experienced, not only in Crossfit but it personal training. They have helped me reach much more personal potential than I have been able to do alone. They are part of the community and it shows, there's a sense of belonging and camaraderie. This place is clean, welcoming and the coaches are very hospitable, but tough. They kick your butt into shape! Very experienced and getting you to reach your fitness goals."
"I love CrossFit out of the box! I've always wanted to join a CrossFit gym, but was always a little intimidated. Then CrossFit Out Of The Box opened up across the street from my work and I want to try it. Being out of the box, they accommodate every fitness level to what you're comfortable with, so any worry of intimidation was gone. Environment is my favorite part of this gym, everyone is supportive and you feel like you're going to work out with friends. Three weeks in, I was already thrilled with the results I was seeing. I also feel so much more energized during the day and overall good about myself! The workouts are different every day so you never get bored and the target different muscle groups each day. The trainers are all meeting in very thorough with their instructions encouraging you throughout the wad. Overall I'm so happy and being full to join CrossFit Out Of The Box. I've changed my attitude I'm working out and do a great job getting me in shape!"
"This is a great place for Crossfit! The owner is there every day and the staff is beyond knowledgeable and motivating! They want you to do the work out correctly, they don't just work out commands. The members are extremely friendly and welcoming, there are no ego is here. Everyone has fun no matter if you're just starting with 5 pounds are working her way up to 100 pounds. If you're considering Crossfit you should definitely check them out! If you're looking for a new gym you should definitely check them out! If you're just in town for a few days you could should definitely check them out!"
"I've been in the fitness world for many years, Pilates, running, Orange theory, Boot Camp style classes, etc. I have for many years been asked by my husband to try out Crossfit and my response was always now we noticed Out of the Box right by her house and just from the initial meeting, I knew this place was different I didn't pick up the barbell and tile is ready, trying to do so, and for the first few months I use Kettlebell's and had weeks to get an awesome workout. Now after being properly trained and prepared I am using the barbell and getting stronger every day. I love this place in the community at Out of the Box. Everyone is encouraging and you can see everyone around you getting stronger. So I guess you could say my husband was right!"
"I can't believe it's been over three years since we stumbled into the Out of the Box grand opening. My wife says "this will be fun" so we join the following week. I was reluctant and out of shape. I weighed 220 pounds and could barely get off the couch without making noise and haven't seen a gym from the inside in 30 years. With Leigh's reassurance an excellent coaching, we managed to start this transformation. In three years I've lost 30 pounds of fat, increase my cardio tenfold, and feel better than I ever have. Leigh and the Out of the Box crew have totally changed my life and definitely extended it. I know people are skeptical about the whole Crossfit preconceptions of it's too hard, I'm going to get hurt, I can't do that, etc. Some gyms are that way, this one is not. She programs for everyone. We have members of all levels of fitness and Shay. You work at your own pace and level and the results will be there. Each and every member is proof of that. It is great to witness the transformation that happens at Out of the Box. The biggest bonus is a great friendships that you make here. We all have common goals of bettering ourselves and we motivate each other to get there. It is the one thing that makes you get off the couch and into the gym. It is almost like an extended family. Thank you for keeping me focused and motivated to be a better me!"
"My job brought me to South Florida where I didn't know anyone, so I joined the gym. I was adamant about doing CrossFit because I heard about how intimidating and intense it was. I checked it out because of the overwhelmingly positive reviews and I was hooked after my first work out. Being an athlete my entire life, I always struggled with push-ups and pull-ups. When starting it out of the box, I never even considered that I would be able to do them. After lots of coaching and progressions, I can now do correct push-ups and almost pull-ups! The coaches are beyond encouraging and really care that you get all that you can out of the workouts. They've created such a positive and fun environment where every skill level can get a great workout. It means a lot that they take the time to go over the movements and progressions both as a group and individually so that you don't get hurt and you know exactly what you're doing. All of the other athletes at Out of the Box push each other during the work outs and keep you accountable on coming back. Out of the Box has changed my life and it will definitely change yours. No matter how good of an athlete you are or want to be, you'll find a place here. There's no intimidation or competition, just a great group of people wanting to be better than they were the day before and I am so proud of how strong and confident I am now I want everyone to experience that same feeling. Getting into the box is the best part of my day because any stress I have melts and sweats away. I love that we have a great sense of community are working toward a common goal."
"I've been a member for 5 years, and love the sense of community that this gym brings to a disjointed South Florida. I've done many fitness activities in my life, but I've never been bored with their workouts. All of the coaches are well trained and get to know each individual to help motivate them. Their facility is pristine! All the equipment is up to date and clean, which makes a huge difference to me. You would do yourself a favor by dropping in or joining Out of the Box."
"This place has changed my view of CrossFit completely! Leigh (the owner) is always there with a smile and encouraging words. She's also really knowledgeable about nutrition. Everyone who comes here is friendly and treats each other like family. Even when I'm being slow or picking up the lightest weights- they're always encouraging me and helping me improve! I love it!"
"This box is by far the best in the area! Their coaches are patient, educated, and all around great people! I have been to other boxes that are intimidating and give CrossFit gyms a bad rep! The coaches here work with you and give you the knowledge and confidence to do well. The programming at Out of the Box will continuously test your strength and endurance! I won't go anywhere else!"
"The best thing about this Crossfit box is that they don't pressure you into doing more weight than you are comfortable with. The coaches are very good at coming up with alternative exercises for movements to make sure people are being safe while also improving. It's a large space with top of the line equipment (rowers/assault bikes/etc.). Great coaches, friendly members. Excellent location. Accommodating to drop-ins. You should give them a try-out!"
"While visiting Pompano Beach last week I attended a few classes at Out Of The Box. Leigh has established an excellent CrossFit facility. Out Of The Box is clean and well organized, their knowledgeable staff of certified trainers offers a variety of personalities which promote a constantly varied/well-coached environment. Which for me is what makes CrossFit "fun"."
"I was skeptical about joining a CrossFit gym that would not accommodate a beginner, but the first time I met Leigh, the owner of this gym, I knew I was in the right place. The staff here is awesome, the facilities are clean, and having A/C is a huge plus. Highly recommend this box to anyone, especially if you're looking to getting into shape but don't know what to do yet."
"Dedication, knowledge, and more. These 2 first listed qualities became very useful to face this coronavirus pandemic. Leigh designed workout programs for us online. We meet with her twice a week on FaceTime for personal training. Although we have limited equipment, she successfully trains us and we stay in shape."
"It was great fun to train in this gym. I felt comfortable from the first day. The coaches and other athletes have warmly welcomed me into their ranks as if I have always been training in this gym. I will come back next year and recommend this gym to anyone who asks me. I'm looking forward to the next year. It was a great pleasure to meet such nice people. Great community. Greetings from Berlin (Germany)."
"After passing by several times I decided to give it a shot. Boy, am I glad that I did. Since I had never done CrossFit before, the coaches took quite a bit of time with me to make sure I was using proper form. Safety is their priority. I absolutely love that you only compete with yourself. I love the people, the coaches, and the atmosphere. Give it a shot. You will not regret it."
"There comes a time when life gets too hectic between professional life and personal life, and we forget to take time for ourselves to take care of our body and health. I was no exception. After being diagnosed with Hashimoto's Disease and fighting an uphill battle with extreme fatigue and weight gain, the people and coaches at CrossFit Out of the Box were there to encourage me every step of the way. My favorite part? Yoga! A time to unwind and breathe."